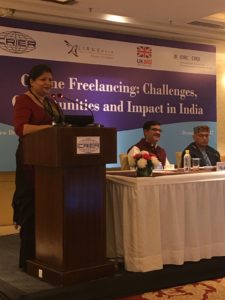 With the support of International Development Research Center (IDRC) of Canada, LIRNEasia in partnership with Indian Council for Research on International Economic Relations (ICRIER) and Vihara Innovation Network studied Online Freelancing: Challenges, Opportunities and Impact in India.
The dissemination workshop of the findings of this research was held on 27th of December 2017 at the India Habitat Centre, India. Government and private sector officials of skill development and employment generation organizations participated at this workshop.
Dr. K. P. Krishnan, Secretary, Ministry of Skill Development and Entrepreneurship, Govt. of India did the keynote address focusing on jobs in India and how the markets are changing. Ms. Helani Galpaya, Chief Executive Officer, LIRNEasia, Sri Lanka and Dr. Rajat Kathuria, Director & Chief Executive, ICRIER, India presented the findings of quantitative and qualitative data on online freelancing and micro-work in India.
Mr. R. Chandrashekhar, President, NASSCOM led the panel discussion on future of jobs. This session was followed by a question and answer session by the participants.
Please click on ICRIER and LIRNEasia for the slides presented at the event
Press release can be found here
Agenda of the event can be found here
Photos of the event can be found here
Event report is here