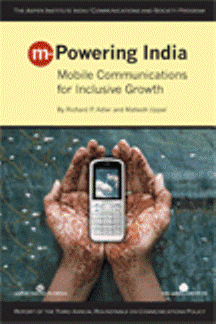 The Aspen Institute has published a report entitled, 'm-Powering India: Mobile Communications for Inclusive Growth' co-authored by Mahesh Uppal and Richard P. Adler, which documents the discussions from the Aspen Institute India/ C & S Joint Roundtable on Communication Policy held in Kovalam, India in February, 2008. LIRNEasia's Executive Director, Rohan Samarajiva,  participated at the event, which brought together senior representatives from the telecommunications industry, government and academia.
The objective of the meeting was to develop policy proposals that would contribute to the development of low-cost and high-quality telecom infrastructure needed to facilitate seamless transactions of mobile commerce.
A summary of the main recommendation (as documented in the report) is given below. An online version of the report is also available HERE.
Key recommendations
Infrastructure
•All carriers should be granted easy access to essential infrastructure at a fair price. This would also allow carriers to expand coverage to rural areas as well as provide additional revenue to backbone network operators.
• Active (in addition to passive) sharing of network infrastructure and the use of the 700 MHz spectrum for wireless broadband communications.
When the Roundtable met Dr. Montek Singh Ahluwalia in Delhi, they pointed out that the latter was one of the recommendations that TRAI had previously made to the Department of Telecommunications (DoT).Within two weeks of this sharing of this list with Dr. Ahluwalia, the DoT approved TRAI's recommendation to allow service providers to share active infrastructure components.
M-currency
• A standardized m-currency that would enable m-commerce to take place in a secure and seamless way.
• The formation of a consortium that would support an m-currency payment mechanism, similar to the M-PESA scheme in Kenya or G-CASH in the Phillipines (both outlined in the report) in order to promote m-commerce.
Hybrid Services
• The introduction of "hyprid services", namely applications involving new technology and content but delivered by a trusted human interface in order to improve the success of m-commerce in India.
• The delivery of "e-government services" via "mgovernment" applications as more users in India have mobile access.
Encouraging Light-Touch Regulation
• Call on the government to continue to refrain from regulation in instances where it would result in reducing competition and stifling innovation.